Canada's National Basketball Team has clinched their third consecutive victory in the FIBA Basketball World Cup 2023 and they advanced to the second phase as Group H winners.
All three performances in the first phase against Latvia, Lebanon and France were spectacular, wrapping up the group stages with a staggering +111 point differential.
After suffering a shock defeat to Brazil in the 2nd phase, Canada bounced back and won the deciding match against Spain on Sunday to claim a spot in the quarter-finals where they will play Slovenia on Wednesday.
The Road Warriors remain the second favorite to claim the golden medal, trailing only the United States, but there is still a long road ahead. Let us see which online sportsbooks in Ontario have the best offer when it comes to future bets for the FIBA World Championship 2023.
Outright to Win & Player Specials at BetMGM Sportsbook Ontario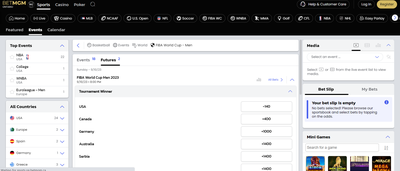 Right now BetMGM Sportsbook Ontario is in the leading position when it comes to number of available markets for this tournament. At the moment of publishing this article, they are offering an attractive +400 line on Canada to become new world basketball champions.
The only team with shorter line right now is the USA, listed at -110, but let us not forget that the Dream Team has not won a gold medal since 2014!
If either Canada or the USA encounters a setback in their Phase Two matches, but still qualify for the playoffs, there is a good chance we might see the big showdown match between these neighboring countries.
As for the Players Specials market, BetMGM has currently listed options for FIBA World Cup 2023 MVP award.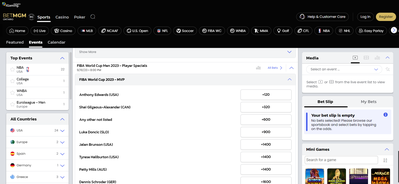 USA's Anthony Edwards is at the top of that list right now, sitting at +120 line to win this prestigious accolade. Minnesota Timberwolves' guard has scored 22 points versus Jordan, 13 against Greece, and 14 against New Zealand, while averaging approximately 20 minutes on the floor.
Meanwhile, Canada's Shai Gilgeous-Alexander contribution in the most recent match versus Latvia was sensational, having game-high 27 points on top of six rebounds and six assists. He scored 16 points in the third period and singlehandedly won the duel for Canada.
The match versus France was no different as Oklahoma's guard scored 27 points in that duel as well, while adding only 12 against Lebanon. Gilgeous-Alexander is currently trading at +320 to be the MVP.
BetRivers Sportsbook Ontario Has One Unique Market

BetRivers Sportsbook is also offering standard "Outright To Win" market like BetMGM, and the current lines for all winners are pretty much similar.
They do not have the MVP lines in store right now (that might change after the second phase concludes), but there is one unique market available — "To Win Gold Medal".
You can choose between "Yes" and "No" options for two teams — United States of America and Canada. If you are not feeling confident about USA's chances to win the FIBA World Cup, right now you can double the money with this wager.
Besides the abovementioned basketball future bets and markets, both BetMGM and BetRivers have a plethora of other options for other sports, especially NFL as the new season is just around the corner. Make sure to stop by and check them out!