There is a lot of poker action on deck for PokerStars in Canada over the next few weeks. For Canada's most populous province, PokerStars ON is planning CAD $3 million in guarantees for two big upcoming series, while the rest of Canada is enjoying massive prize pools and fields in USD $85 million World Championships of Online Poker (WCOOP).
Even though summer is coming to an end, the Canadian poker action from PokerStars is still going to be hot. With big series currently underway in all Canadian markets, Canucks will have access to some big prize pools on PokerStars and PokerStars ON.
In the newly segregated market of Ontario, PokerStars ON has two big series on the books now. First up is the ongoing CAD $1 million guaranteed Bounty Builder Series (BBS), and that will be followed by the very first running of the COOP brand in Canada's biggest province with the CAD $2 million guaranteed ONCOOP in October.
Meanwhile, players in the rest of Canada are still playing their online poker on the PokerStars global client, and at the moment, the big news is the ongoing WCOOP series. With USD $85 million guaranteed across the month-long series, wherever you live in Canada you will have access to huge prizes from PokerStars over the next few weeks.
Ongoing and Upcoming Series for Canadians on PokerStars
PokerStars ON

Bounty Builder Series (

BBS

)

CAD

$1 Million Guaranteed
Sep 4 — 19

ONCOOP

CAD

$2 Million Guaranteed
Oct 1 — 17

PokerStars Global (Rest of Canada)

WCOOP

$85 Million ($

USD

) Guaranteed
Sep 4 – 28
CAD

$3 Million Guaranteed in Ontario before End of Oct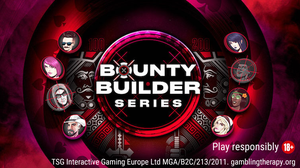 Ontario online poker players are in for a treat over the next few weeks as PokerStars ON is bringing some hot series action to the ring-fenced Canadian market. Ongoing as we speak is the BBS, an entire series dedicated to the fastest growing form of no-limit hold'em, bounty games.
The BBS is already ongoing on the Ontario client, with buy-ins ranging from $10 to $500. The action began on Sep 4 and proceeds until the last day on Sep 19.
There is more than $1 million guaranteed in the BBS games, with $100,000 reserved for the marquee game, the $200 buy-in Main Event on Sept 18. That should make it one of the biggest prize pools in Ontario's brief history.
There is a bit of a gap once the BBS finishes, but PokerStars ON does not intend to sit on its laurels. Just a few days after the BBS, Ontarians will have the chance to win ONCOOP trophies for the very first time.
When October dawns, the very first running of PokerStars' COOP brand in Ontario gets going with the start of ONCOOP. There will be 18 days of ONCOOP action, starting on Oct 1, though no schedule has yet been released for the next series.
PokerStars Ontario Tournament Series History
| Series | Dates | Total Gtd | Tournaments | Avg Gtd |
| --- | --- | --- | --- | --- |
| Platinum Series | July 10 – 18 | $1,000,000 | 90 | $11,111 |
| Summer Stacks | Aug 7 – 14 | $750,000 | 108 | $6,944 |
| Bounty Builder Series | Sep 4 – 19 | $1,000,000 | 133 | $7,519 |
| ONCOOP | Oct 1 – 17 | $2,000,000 | | |
WCOOP

Action for the Rest of Canada

Meanwhile, Canadians outside of Ontario are still playing on the PokerStars Global client, which means they are competing for massive prizes in the World Championship of Online Poker (WCOOP). Action in the WCOOP continues through Sep 28.

The Main Event for WCOOP gets going on Sep 25 with three games guaranteeing $12.5 million (USD) in total. Depending on the level, players can get into the Main Events for $109, $1,050, and $10,300 and the smallest one of the three is still guaranteeing $2.5 million, requiring a field size of at least 2,500 to make good on the promise.

There is a lot of action coming up on the Pokerstars calendar for Canadians in the next few weeks. Both the ring-fenced market of Ontario and the rest of Canada will be enjoying big prizes and hot poker action for the next few weeks.