It has been 17 years of million-dollar Sundays on PokerStars and — the operator wants to celebrate with a massive edition of the iconic tournament.
On March 26, players will fight for $7.5 million guaranteed with a full $1 million guaranteed for the winner of the 17th-anniversary edition of the Sunday Million.
Players looking to buy straight into the big anniversary game can do so for $215, but there are lots of ways to get into the game for less. In fact, players can start climbing the satellite tree for nothing with freebuy online games that guarantee one $215 seat. The freebuy games have optional 27c rebuys with a 27c add-on — but they are a great way to get into the big game for cheap.
The anniversary Sunday Million games can make careers — just ask Canadian Vanessa Kade. She was embroiled in some controversy involving competitor GGPoker and its acquisition of problematic ambassador Dan Bilzerian in late 2020 and early 2021 in the lead-up to the 15th anniversary Sunday Million game. The controversy caused her to lose some revenue from sponsorships, and going into the big game, her stream and career were somewhat in turmoil.
Then she won that 15th-anniversary Sunday Million event for $1.5 million to add some serious bulk to her bankroll. More than that, however, the win opened new opportunities for Kade and she has gone on to a reinvigorated career playing on live, high-stakes circuits around the world.
17th Anniversary Sunday Million
Date: Mar 26, 2023
Cost: $215
Guarantee: $7.5 million
First Place: at least $1 million
Satellites: See below
Cheap Shots at Millions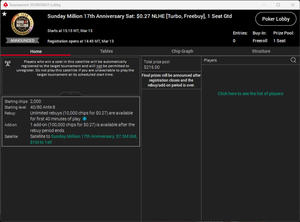 The big game on the PokerStars app costs $215 for direct entry, but there are lots of chances to get into the tournament for a lot less than that. Among the options is a freebuy game (27c rebuys and add-on) that guarantees a $215 seat for the winner.
Other satellite options start at $1.10 for both phased direct satellites and mega-path games. The $1.10 Phase satellite has 50 seats guaranteed in Phase 2 with multiple Phase 1 games running daily.
There is also a more traditional mega-path route to the big ticket. Several games starting at $1.10 take place every day with up to five tickets to the $22 level available. Players can also jump onto the tree at any level above $1.10 to get a head start to the top.
The third way to win a ticket to the 17th Anniversary Sunday Million is the Fast Track path. Starting at $1.50, there are three levels to play through, with the final games priced at $20 and up to five tickets guaranteed. The $1.50 games run as sit & go format, with timed MTTs filling out the bigger lanes on the Track.
The games are running throughout the day with smaller events scheduled under the sit & go format and larger games happening as scheduled MTTs. The MTT games generally run every two hours, and, as always, players can jump in at any point on the track.
17th Anniversary Sunday Million Fast Track Satellites
| Buy-In | Game-Type | Times | Guaranteed |
| --- | --- | --- | --- |
| $1.50 | S&G | On Demand | 2x$5 Seats |
| $5.00 | S&G | On Demand | 4x$20 Seats |
| $5.00 | MTT | Every 2 Hours | 5-10x$20 Seats |
| $20.00 | MTT | Every 2 Hours | 1-5x$215 Seats |
Spin Your Way In
The final way to win a ticket to the 17th Anniversary game is with Spin & Go's. Players can pocket tickets in Spin & Go games for as little as $0.50, and tickets are up for grabs in $4 and $20 games as well.
The special edition Sunday Million Anniversary Spin & Go tournaments are running in the Spin & Go lobby on the main client. See below for the prize breakdowns for the special games.
$0.50 Buy-in Sunday Million Anniversary Spin & Go
$215 Sunday Million Anniversary entry — 350 in 1,000,000
$5 satellite ticket — 17,500 in 1,000,000
$1.50 satellite ticket — 470,200 in 1,000,000
$1 cash — 511,950 in 1,000,000
$4 Buy-in Sunday Million Anniversary Spin & Go:
$1,000,000 (plus $100,000 each for runners-up) — 1 in 10,000,000
$215 Sunday Million Anniversary entry — 25,000 in 10,000,000
$20 satellite ticket — 1,250,000 in 10,000,000
$11 satellite ticket — 3,008,336 in 10,000,000
$8 cash — 5,716,663 in 10,000,000
$20 Buy-in Sunday Million Anniversary Spin & Go:
$1,000,000 (plus $100,000 each for runners-up) — 1 in 10,000,000
$215 Sunday Million Anniversary entry — 550,998 in 10,000,000
$55 satellite ticket — 4,425,026 in 10,000,000
$40 cash — 5,023,975 in 10,000,000